Nov. 14 2013 – Paris: SPOT On Denmark returns to Paris under the "SPOT mon amour" title
|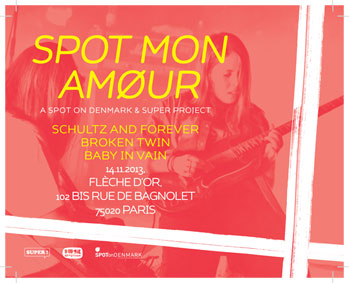 A half-day event with B2B networking as well as music, aiming to attract French music fans, business and media people alike
On Thursday 14th of November SPOT On Denmark returns to Paris. This is the first time since 2009 but the 4th time in total that a SPOT On Denmark event will take place in the city of love, and the evening has therefore been given the appropriate title "SPOT mon amour". The event will take place at the legendary venue Flèche d'Or.
The line-up of the night has been carefully selected by a French jury consisting of French booking agency Super and Paris PR agency Boogie Drugstore, which have booked their 3 favorite discoveries from this year's SPOT Festival in Aarhus, Denmark. Namely Schultz and Forever, Baby in Vain and Broken Twin.
However, the three Danish acts are not the only thing that makes Danish and French music professionals meet up in Paris:
This year's program also includes the well-known SPOT On Denmark dinner event. A networking matchmaking event exlusively open for delegates taking place before the concerts where good French wine and food will set the scene for an intimate meeting between 50 Danish and French music professionals.
It is no coincidence that SPOT On Denmark is taking place in Paris again. ROSA – Danish Rock Council Managing Director Gunnar K. Madsen explains:
"… We have been focused on the cultural exchange with France for many year's, which is best exemplified by our current membership in the French/international festival federation De Concert and through which we actually did a SPOT event back in December 2012 within the context of the Generiq Festival. These networks have ensured important knowledge in terms of how to approach France. Active projects such as this comeback in Paris are thus a natural step in our ongoing French strategy…"
MXD – Music Export Denmark's Managing Director Thomas Rohde further adds:
"… from a business point of view there is moreover more than good reason for this project. Not only is France the 3rd biggest music market in Europe, its also a market where Danish bands have been enjoying success during the last years, for example with the commercial success of Agnes Obel, the sold out shows of Asteroids Galaxy Tour or the media acclaim surrounding current releases such as the new Trentemøller album…"
Links: