Nov.3 2013 Eindhoven: Four Danish Acts Ready for Hit The City Festival in Eindhoven
|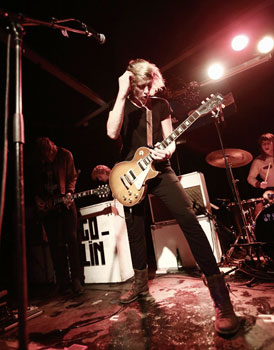 SPOT On Denmark returns to Holland with The Foreign Resort and Go Go Berlin at the Hit The City Festival in Eindhoven, which also features Schultz & Forever and Killer View

On Sunday the 3rd of November four Danish acts are scheduled to play at the Hit The City Festival in Eindhoven, the Netherlands. Two of the bands will be there as part of the SPOT On Denmark showcase – Go Go Berlin and The Foreign Resort. Both bands were handpicked by a Dutch jury (the booking agency Friendly Fire and the Eindhoven venue Effenar) in the wake of this year's SPOT Festival. Furthermore, the festival has added Schultz and Forever (also seen at SPOT) and Killer View to their line-up on their own account.   
Strong, historical commercial relations
"Historically the Netherlands and Denmark have always had strong commercial relations, not to mention the many cultural similarities of our two countries, which make it very easy to work together. This is something we have seen for years with our own SPOT Festival, where invariably we are blessed with enthusiastic interest from the Dutch music business people, who subsequently organize concerts and release Danish acts in the Netherlands", says Gunnar K. Madsen – daily leader of ROSA – the Danish Rock Council.
Thomas Rohde, managing director of MXD – Music Export Denmark adds, " to build on our network in the Netherlands makes perfect sense. Compared to Denmark, the Netherlands is a huge market where we have had great success over the years with acts such as Ginger Ninja, Tim Christensen, Saybia, and Kashmir."
The last time SPOT On Denmark was in the Netherlands was in 2008 when Dúné, Men Among Animals, Slaraffenland and a DJ set from Efterklang left quite a mark at the Nordic Blizzard festival in Utrecht.
* SPOT On Denmark is organized by MXD – Music Export Denmark and ROSA – The Danish Rock Council