July 7 2012 – Montreux: Asbjørn in 3D Documentary from the Montreux Jazz Festival
|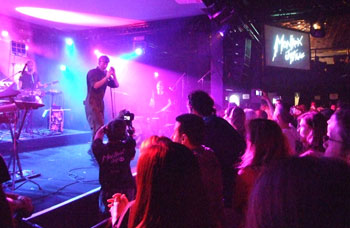 The Aarhus singer was handpicked by a Swiss film director who is working on a 3D film about the Montreux Jazz Festival – the shooting took place in connection with the SPOT On Denmark campaign. Acts like Quincy Jones, Katie Melua and Herbie Hancock will also appear in the film
 Danish Asbjørn finds himself in quite distinguished company and will now get extraordinary international exposure: The Swiss director Philippe Nicolet from Swiss Watch TV / NVP3D recorded large parts of the Aarhus-born singer's SPOT On Denmark concert this Saturday at the Montreux Jazz Festival followed by an extensive interview. All of this for a documentary in 3D, which is produced for international TV and Blu-ray/DVD sales.
In the "cast" you also find Quincy Jones, Katie Melua, Herbie Hancock, Nile Rodgers, Garland Jeffreys, etc. all of them established stars. Phillippe Nicolet is happy to explain the reason why a newcomer like Asbjørn has also been included.
"I have had a look at all 120 acts at this year's festival, and I selected 35 and fitted them into the project. I saw Asbjørn on YouTube, and since that first view there was never any doubt in my mind that he would have to be in the film. His music really moved me, it's very graceful, melodious, harmonious and not least very personal", the director said about the decision to include Asbjørn right before the singer and his band went on stage last Saturday.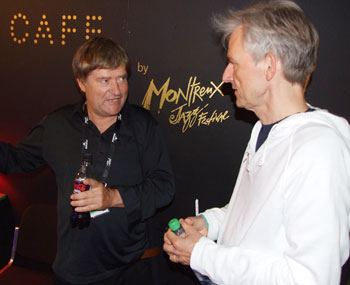 Music Making History

The title of the film is "Music Making History", and it aims to reflect the diversity of the music that is played at the festival. Not just well-known and tried-and-tested, but also new and upcoming. In fact the Montreux Jazz Festival has also been a launching pad for many new faces – not just a platform for established acts", says Philippe Nicolet.  
Philippe Nicolet has been working in 3D for a long time – he organizes his own 3D festival in Switzerland and he has produced 3D footage with Deep Purple (at the Montreux Jazz Festival) and Yes. It was this footage that made the patron of the festival Claude Nobs ask Philippe Nicolet to make a documentary from the 2012 festival. The film will be released in a French, an English and a Chinese version.
Beyond the Expectations
"Did Asbjørn then live up to the expectations?" We asked Philippe Nicolet after the concert.
"It was way beyond my expectations! It is the feeling that surrounds you when you are absorbed by the music which is so special with him, and it's that feeling that I hope to get into the film. Asbjørn is one of the best new acts I have seen", the director said before hurrying on to make the interview with the Danish singer.
Read more about the 3D-project here