Create value with crossover collaboration – SPOT on SYNC in Köln
|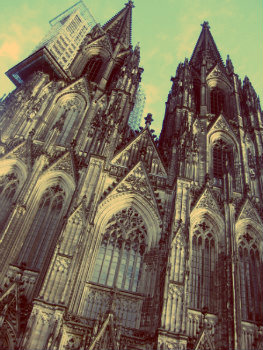 The special campaign showed that authentically anchored collaborations and the close collaboration in the Danish music business create potential for sync success.
The day before SPOT On Denmark was to take place in the Christmas-colored Köln venue Stadtgarten, MXD and the SPOT Festival had invited ten Danish and ten German music business people to a workshop focusing on "sync". The sync campaign kicked off with two keynote presentations, after which the stage was set for speed dating and pitching of ideas among the participants.
The two presentations showed two different approaches to the topic.
The first one was held by Robin Hoffmann and Steffen Wist from the German music supervisor company HearDis!, who told the audience about their collaboration with Danish Kasper Bjørke and Hugo Boss. "In our Hugo Artist Project we select two artists each year who are used in many of the Hugo Boss marketing channels, and Bjørke is one of them", says Stefan Wist. He continues, "it's all about creating connection between bands and brands. Bjørke and Hugo Boss are a perfect match, which works because both parties are committed to the project and to each other. Bjørke is into fashion, is good-looking and likes the clothes from Hugo Boss. Hugo Boss for its part uses Bjørke's interest in gourmet food, which he blogs about on the Hugo Boss website.  Conversely, Bjørke benefits from the enormous range of the Hugo Boss marketing machine to promote himself and in some cases he is backed financially by Hugo Boss – for instance for a new video. In that way it really becomes more of a win-win collaborative project than a sponsorship in the traditional sense".
The second presentation – by Milena Fessmann, music supervisor at Cinesong and raido host/ DJ at the Berlin station RadioEins, represented the part of the sync industry that works to find music for films. Fessman explain what her job involves, "When I get a script and a budget from a director or producer and I am asked to find music for it, I have to be "the bad guy" right from the start and tell them what is possible and what isn't. Part of my job is to come up with suggestions for suitable music, but especially to clear rights between the copyright holder of the music and the film".
She adds, "I was really impressed with the quality of the music I have been introduced to at this speed dating session. I'm crazy about Scandinavian music and I also play it a lot as a DJ so I have had several useful inputs."
Another music supervisor, Pia Hoffmann, also talks of how useful it has been to hear unreleased Danish music, "When for instance I am asked to find music for a modern film, a Rihanna hit won't work, because the audience will associate the film with 2012 even though the film won't be released before 2013 and takes place in 2013. The Danish music business seems very professional to me and they distinguish themselves by knowing about all the partners around the artist: publisher, if the artist is on Spotify, if the music is available in an instrumental version, etc. The joint forces in the Danish music business make my job significantly easier. Therefore I would like to spend money on Danish music".
Click 
here
 to read about the SPOT On Denmark showcase including concert reviews and a comment from Gunnar Madsen on Denmark's strengthened anchoring in the German market.